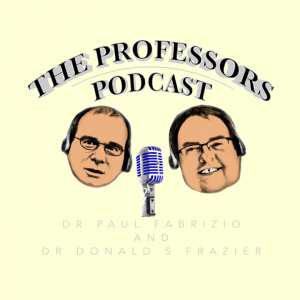 Check out this fun, informed, and inspiring podcast on a variety of topics, historical, political, and otherwise from top-tier McMurry University professors. Plus, new, special guests every week!
Episode 16 – Enrollment Management with Guest David Heringer
Episode 15 – Mammalogy with Guest Dr. Joel Brant
Episode 14 – Germany in World War I with Guest Dr. Gary Shanafelt
Episode 13 – Rock and Roll Music with Guest Dr. Keith Waddle
Episode 12 – Sociology with Guest Dr. Jori Sechrist
Episode 11 – Texas Music with Guest Joe Specht
Episode 10 – History of Abilene with Guest Robert Sledge
Episode 9 – Space Physics with Guest Dr. Wayne Keith
Episode 8 – Windshield History with Guest Christopher Bartlett
Episode 7 – Mary Tudor with Guest Dr. Jessica Walker
Episode 6 – The Effect of the Crusades with Guest Dr. Jeremy Pearson
Episode 5 – Anglo-Saxon England with Guest Dr. Andrew Welton
Episode 4 – Texas Revolution and Republic with Guest Dr. Stephen L. Hardin
Episode 3 – Voting with Guest Sarah Frazier
Episode 2 – Where do we get our holidays?
Episode 1 – The Education System with Guest Tim Frazier