McWhiney History Education Group
The McWhiney History Education Group (formerly the Grady McWhiney Research Foundation) was chartered in 1996 as a Texas 501(c) 3 non profit organization.  It believes, as did the author Voltaire, that history should teach us our duties and rights, without appearing to teach them. With this conviction, we pursue our educational mission in the arenas of publishing, symposia, and heritage and cultural tourism in order to deliver the ideals of liberty and freedom to coming generations.  The organization was formed to promote education on topics regarding the history of the middle years of the 19th century in American history,  topics in Texas history and culture, and topics in military history.  It further seeks to make this information available to the public through both traditional educational vehicles and electronic media such as the Internet.
How We Got Started
Dr. Grady McWhiney was the force behind the Group. Committed to the mission of history education at the highest levels in the United States, he pledged his entire estate as the under-girding endowment that makes this venture possible. A well-known and respected scholar, McWhiney served as head of the Southern History Institute at the University of Alabama for many years. His published work, in the form of several books and numerous articles, has been both ground-breaking and provocative. In the course of his nearly forty years as a professional historian, McWhiney earned a reputation for impeccable scholarship that often led to unconventional insights into our nation's history.
His work has attracted supporters and detractors alike, but his list of close associates and admirers reads as a roll call of America's most brilliant historians. The McWhiney Group is fortunate to have many of these educators, authors, and scholars serving in an advisory role as Senior Fellows. These include Dr. Linda Crist (The Papers of Jefferson Davis), Dr. Forrest McDonald (E Pluribus Unum: The Formation of the American Republic), Dr. Eugene Genovese (Roll, Jordan, Roll), Dr. Bud Robertson (Soldiers Blue and Gray), and others of equal reputation. McWhiney also attracted superior students, and these men and women, joined by other historians whom McWhiney said "he wished were his students," serve as Fellows of the Foundation and will continue to research and write the kind of history inspired by their friend and mentor.
Given Grady McWhiney's interest in Southern history and culture, a hog with a snake was an obvious choice to be the Foundation's official logo.
---
Grady McWhiney 1928-2006
Henry Grady McWhiney was born on July 15, 1928, in Shreveport, Louisiana. After attending school in that city, he enlisted in the United States Marine Corps in the last year of World War II. He met and married Sue Baca while in California in 1947, then returned home after the war. He graduated from Centenary College and earned his Master's degree in history from the Louisiana State University, studying under the legendary Francis Butler Simkins. He continued his studies at Columbia University in New York, where he was one of the first graduate students to work with the highly respected David Donald. He received his Ph.D. in 1960.
McWhiney's dissertation focused on the life and career of Confederate General Braxton Bragg, and he made his life's work the study of the Civil War era in the United States, as well as of Southern history. He authored or contributed to dozens of books on these subjects. His most notable titles include the Civil War best seller Attack and Die that he co-authored with his doctoral student Perry Jamieson, and his narrative biography Braxton Bragg and Confederate Defeat, Vol. I, a work that was completed with Vol. II by Judith Lee Hallock.
His most path-breaking and provocative work was Cracker Culture: Celtic Ways in the Old South. McWhiney also wrote hundreds of articles for scholarly journals and was a regular presenter at meetings of the Organization of American Historians, the American Historical Association, and the Southern Historical Association. He was in great demand as a speaker for hundreds of Civil War enthusiasts' groups and civic organizations across the country and abroad.
Grady McWhiney made an indelible mark on his profession and on the way that Americans, and Southerners in particular, view themselves. His life included an interesting mix of devotion, gentility, controversy, and dedication to his craft and to his students. He was also concerned that the study of history continue to be an important part of American education and society. As he put it, "history should be accessible." With that mission in mind, he founded the McWhiney History Education Group (formerly known as The Grady McWhiney Research Foundation), located in Kerrvillle, Texas.
He lived a great life. He taught at such diverse colleges and universities as Troy State University, Milsaps College, the University of California at Berkeley, Northwestern University, the University of British Columbia, Wayne State University, the University of Alabama, Texas Christian University, and in retirement at Mississippi Southern University and McMurry University. In the course of his 44-year career, he trained 19 Ph.D.s — people who influence hundreds of thousands of lives and minds around the world through their work at colleges and universities and in other history-related professions.
Doc was fond of good conversation, excellent food and drink, Irish and Southern fiddle music, stylish cars, his friends, and his cats. Almost everyone who met him, though they may not have agreed with him, recognized him as the quintessential Southern gentleman from his chivalrous manners to his snappy attire.
Sue Baca McWhiney predeceased him in 2000. His last days were eased by the unflinching kindness of Hospice of the Big Country. He breathed his last on April 18, 2006. The McWhiney History Education Group continues his legacy of teaching and making history accessible to rising generations.
---
Our Logo
The emblem of the McWhiney History Education Group is a wild "range" hog consuming a rattlesnake. Taken from an 1854 engraving from Harper's New Monthly Magazine, this image succinctly identifies this organization as being associated with Grady McWhiney and his particular style of scholarship.So, why the Hog and Snake? In the course of his career, one of McWhiney's research discoveries was the overwhelming importance of free range livestock raising in the Old South. In fact, according to his and other historians' calculations, such pedestrian items as pork and corn represented a much larger economic presence in the Old South than did the more commonly known cash crops of cotton, tobacco, and sugar.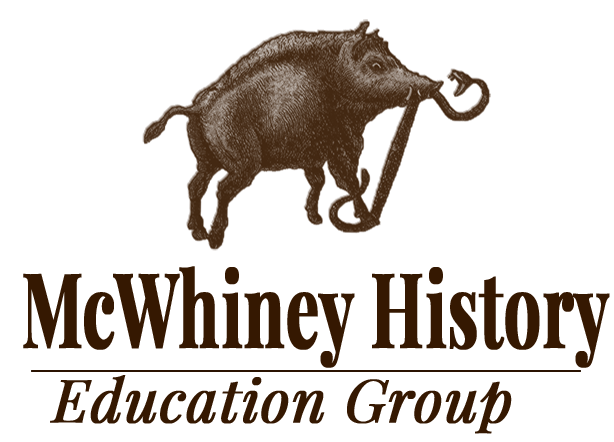 "Hogmeat and hoecake" certainly does not capture the imagination like "moonlight and magnolias," but according to McWhiney, it does reflect a more accurate image of Southern history. In fact, the hog represents a level of unity in the South: Slaves and slaveowners on the plantations,"crackers" in the piney woods, and travelers from other regions all feasted on range hogs as a primary staple in their diets.
McWhiney's tradition of serious scholarly investigation expanded understanding while defying conventional wisdom. Because of this, the McWhiney Foundation chose a symbol of its founder's research — a wild hog enjoying a delicacy — to serve as its logo.
---
MHEG Today
The Group has taken an active role in the publication of new books on history, initially under its own name and through its purchase of State House Press. In 1999, the Group was able to take advantage of an opportunity to acquire the Buffalo Gap Historic Village — a unique collection of original buildings and artifacts of the West Texas frontier, open to the public. As of January 31, 2017, Taylor County owns and runs Buffalo Gap Historic Village.
In 2005, the McWhiney History Education Group received the 2005 Mary Moody Northern Award by the Texas Historical Foundation for its publishing activities and for its development of the Buffalo Gap Historic Village.