Welcome to the home page of State House Press, non-profit publisher of quality books on the history of Texas and the Civil War.
State House Press and the McWhiney Foundation Press are part of the Texas A&M University Press Consortium, which handles retail distribution for a number of small but distinguished publishers. Our entire list of offerings, with pictures, summaries, prices, and easy online ordering, is available in our section of the consortium web pages.
State House Press is proud of its reputation for high standards of scholarship and readability. As Kent Biffle of the Dallas Morning News once said, "I never met a State House Press book I didn't like."
We release not only Texana by contemporary authors but reprints of classic accounts of Texas life and history otherwise inaccessible to the general public. Our booklist also incorporates the publications of the McWhiney Foundation Press, specializing in the history of the Old South and the Civil War. We strive with our titles to make history accessible to as many readers as possible. To accomplish this task, we have recruited some of America's leading historians and many bright new scholars. We believe firmly in narrative history, in telling a good story, and in telling it well – without losing sight of the people who made history and the events that changed a nation.
State House Press Featured Books For Sale
State House Press
at A&M Press Consortium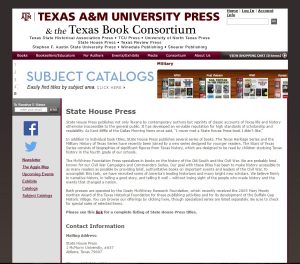 Error: Server configuration issue
Coming Soon! Book Trailers!